The Twin Cities chapter participates in a variety of activities and events throughout the year. Each is great experience for everyone involved and is another way we give something back to our community. From a fishing opener at the Minneapolis Veterans Home, to an outing with fellow chapter members, to a fishing tournament where every penny raised goes back to the metro-area fishery, you'll find something that's just right for you.
---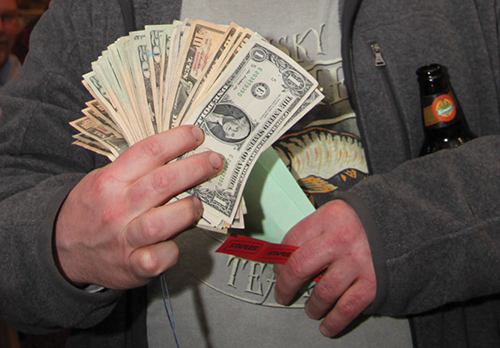 SPORTSMAN'S BANQUET
JANUARY 28, 2023
The banquet, with over $20,000 in prizes, helps fund our chapter's stocking and project goals as well as several other chapter functions. Join us at the banquet and you could go home with a fishing trip with a noted guide, a resort stay on a premier US or Canadian muskie lake, a new rod, reel, tackle box, a custom painted one-of-a-kind lure, a print for your walls, or one of the many other outdoor gear found as prizes at raffle tables, games and silent auctions.
---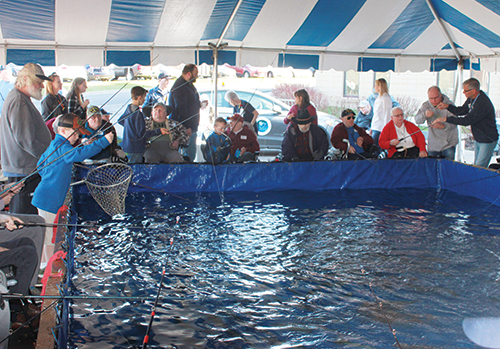 FISHING OPENER AT THE MINNEAPOLIS VETERAN'S HOME
MAY 6, 2023.
TYPICALLY THE SATURDAY BEFORE MINNESOTA FISHING OPENER.
Residents of the Minnesota Veterans Home are treated to a day of fishing and a fresh cooked "shore lunch". A trout pond is erected at the home and residents can come out and try their luck catching lunch. The fish are cleaned and cooked and served to all who participate. If you haven't ever been to the "fishing opener" at the Vet's Home, you've really been missing out. It's a great time for all. Volunteer to help the residents land their fish or to serve the shore lunch.
---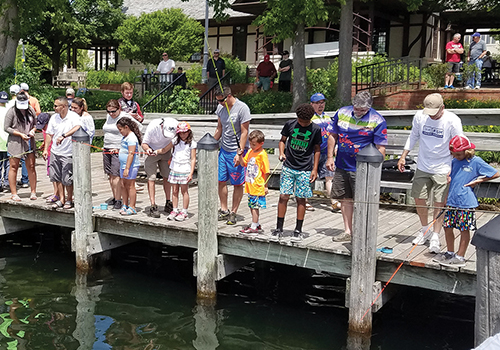 ARMED FORCES FAMILY FISHING CELEBRATION
JUNE 20, 2023
The Armed Forces Family Fishing Celebration is a collaboration with Fishing for Life. Military kids and adults with connections to the military enjoy a morning of fishing out on Lake Minnetonka and from the docks. Help get the people on fish (multi-species) and safely bring everyone back to the dock. Enjoy the awards program and a delicious lunch.
---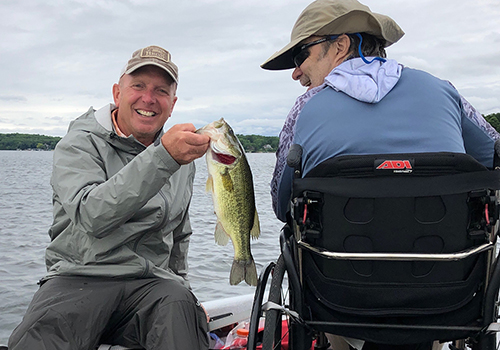 CAPABLE PARTNERS OUTING
JUNE 11, 2023
Share your love for the pursuit of muskies with a fellow outdoorsman. Join fellow chapter members for an outing on Lake Minnetonka with physically challenged members of the Capable Partners organization. Volunteer to take the Capable Partners out on the lake — no guarantee that a muskie will be caught — or help prepare and serve the "shore lunch" that will end the event. Anyone who wants to continue fishing in the afternoon is welcome to.
---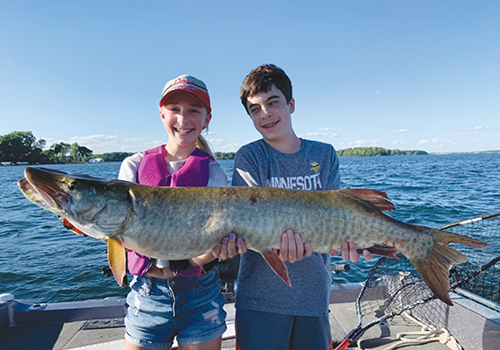 SECTIONAL QUALIFIER FOR THE MINNESOTA STATE HIGH SCHOOL TOURNAMENT
JUNE 12, 2023
Open to students in grades 8-12 from metro-area schools. Each Muskies, Inc. chapter throughout the state can hold qualifiers. The Twin Cities chapter in-person qualifier is June 14 on Lake Waconia. We are also will be a virtual qualifier on metro-area lakes June 19-27. The top two teams from qualifiers will represent the chapter in the state High School Muskie Tournament in August 13 on Lake Vermilion. More information and registration forms can be found at https://sites.google.com/view/mi-ch1-youthtourney/home
---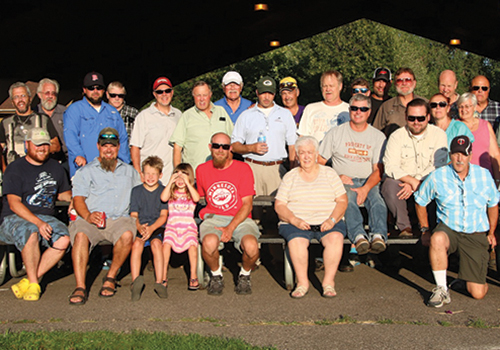 AUGUST POT LUCK PICNIC
AUGUST 8, 2023
This is an enjoyable night for the whole family, so bring the kids. Meet at 6 pm at the pavilion at Veterans Park at 64th and Portland Avenue in Richfield. Burgers, brats, buns and pop will be provided. Everyone brings a side dish or dessert to share.
---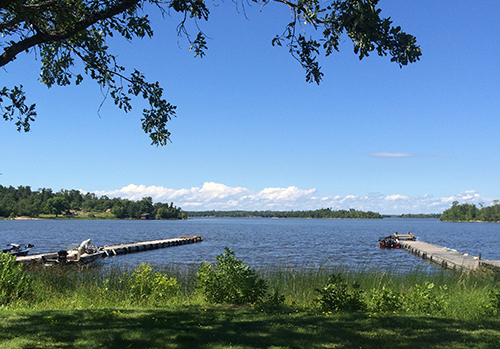 RED WING LODGE OUTING, LAKE OF THE WOODS
AUGUST 5-12, 2023
Members of the Twin Cities and North Metro chapters have been enjoying a week-long adventure at Red Wing Lodge for many years. The Bartlett family at Red Wing Lodge on Sabaskong Bay has hosted Muskies, Inc. outings for years with personal and friendly service. They understand what muskie people need and like. The trip includes: daily bag of ice, free dockage, free boat launch, free dinner one night courtesy of the Bartlett family, one free trip given away in a drawing and door prizes. If you'd like to join the outing, contact John van Ingen at (651) 336-3622, [email protected] or John Genosky at (651) 329-4898, [email protected].
---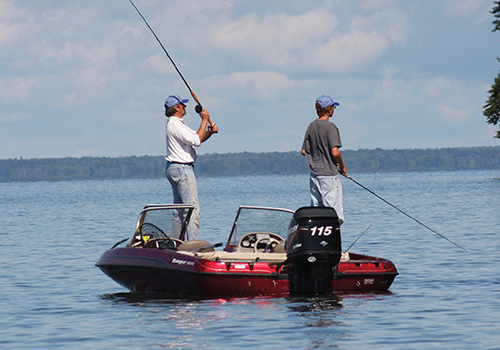 FRANK SCHNEIDER MEMORIAL MUSKIE TOURNAMENT
SEPTEMBER 8, 9, 10, 2023
This is Muskies, Inc.'s longest-running tournament, celebrating its 54th year in 2021. The 3-day event is held on over 20+ lakes in the Bemidji-Cass Lake-Leech-Longville area of northern Minnesota. Every person who registers a muskie in the tournament is entered in the grand prize drawing. Three $5,000 grand prizes will be drawn and awarded on Sunday. More info ►
---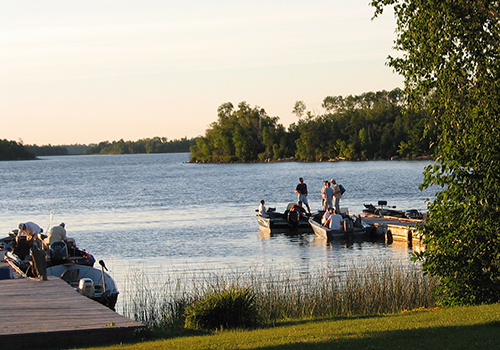 GIL HAMM CHAPTER CHALLUNGE
SEPTEMBER 23-25, 2023
Represent our chapter at the Chapter Challunge on Lake Vermilion in northern Minnesota. Teams from MI chapters nationwide will gather for the Challunge. Cabins are reserved for the entire week. Contact John Newman at [email protected] if you'd like to be part of the team.
---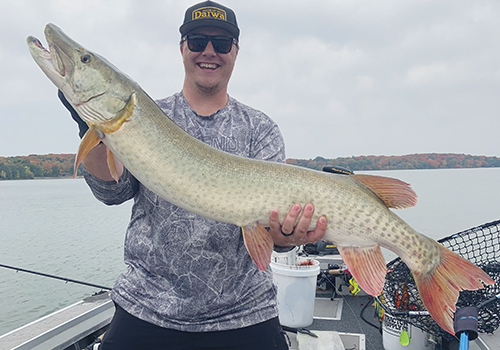 GEORGE WAHL MEMORIAL MUSKIE TOURNAMENT
SEPTEMBER 30, 2023
Join in for a one-day tournament held on 12 metro-area lakes. 100% of the proceeds raised by this tournament goes back to the muskie resource. An awards program with a meal will be at Thorne Bros. after the day's fishing. First place will win $1000. Grand prize is a week-long trip to Whitefish Bay Camp on Lake of the Woods and $500. More info ►